Ignite the full force of your feminine energy and potent Goddess Power with this transformational 5 day program.

This week long immersion will give you the power to alchemically transmute your energy frequency to attract your deep desires.

💎Learn the secrets of the Goddess

💎Unleash the primal woman and intuitive
powers
💎Attract your true desires

💎Create the life you want

💎Unlock your feminine alchemy and sensual
power

💎Learn the secrets of magnetism and charm

💎Step into your feminine power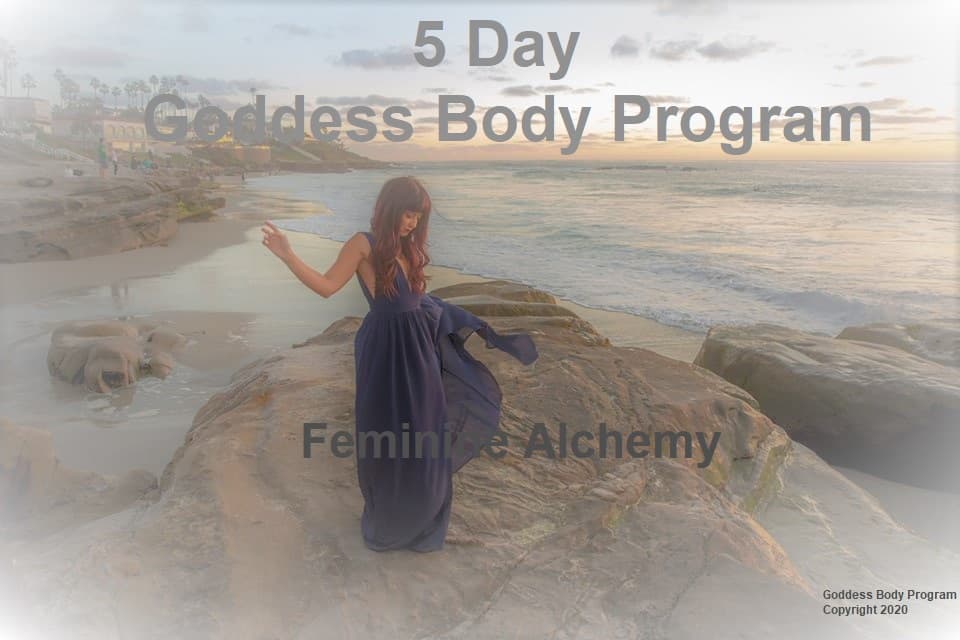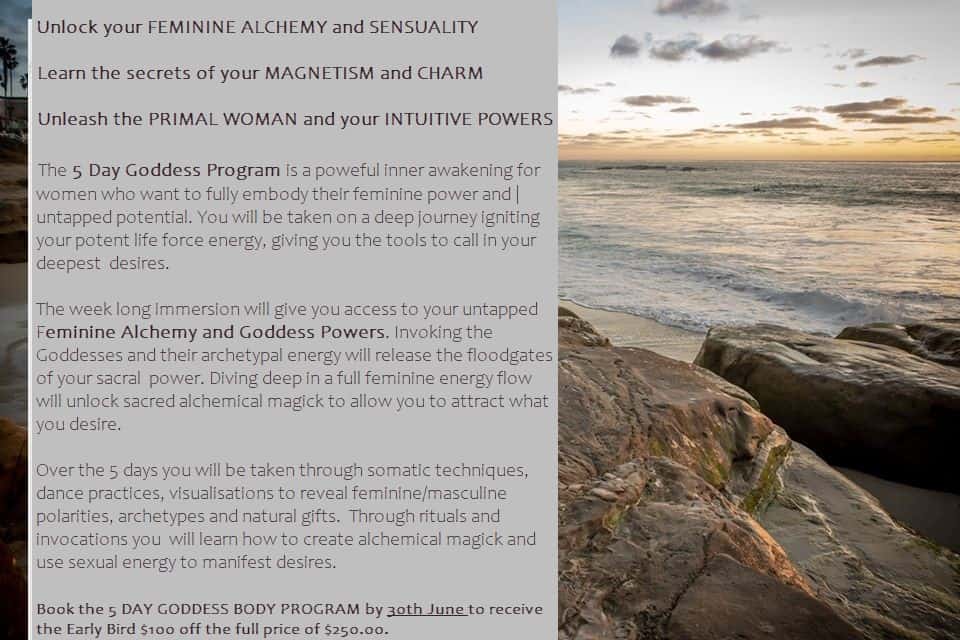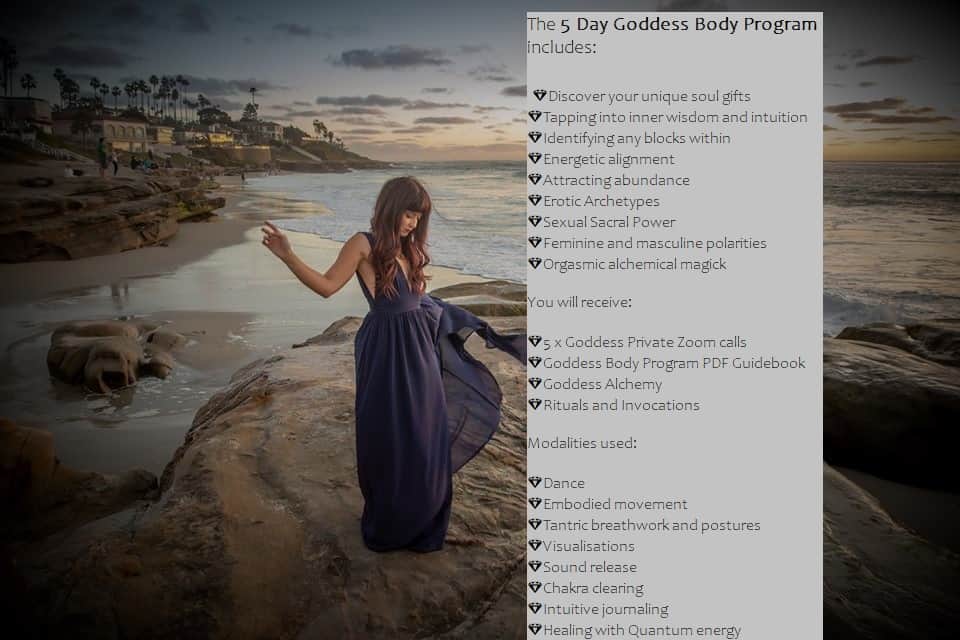 The 5 Day Goddess Body Program is a deep reconditioning of mind, body and soul.
You will be taken on a powerful soul journey to access the 5 Body layers: physical, mental, wisdom, energy and bliss.

You will be working deeply with 6 powerful Goddesses to tune into your inner wisdom and intuition. You will be guided to the realm of the goddess within and her deeper knowing.

Your magnetisation and manifestation abilities will be activated during the week long immersion and your energy frequency aligned to attract your desires and unlimited abundance in all it's forms – love, career, health and success

The 5 Day Goddess Body Program helps you eliminate negative patterning and to move past old conditioning. Distractions and mind interference will shift to a crystal clearer vision and to the higher whole version of you.

Warning: The 5 Day Goddess Body Program is transformational and powerful alchemy! You will go be going deep, tapping into your inner wisdom and soul to access your true potential!


The 5 Day Goddess Body Program includes:
💎Mind, Body & Soul Reset
💎5 x Goddess One on One Zoom calls
💎Goddess Body Program PDF Guidebook

💎Instructional Video's
💎Goddess Alchemy Rituals and Invocations

Topics covered:

💎Discovering your unique soul gifts
💎Tapping into inner wisdom
💎Identifying any blocks within
💎Energetic alignment
💎Attracting abundance
💎Erotic Archetypes
💎Sexual Sacral Power
💎Feminine and masculine polarities
💎Primal essence
💎Orgasmic sexual alchemy

Modalities used:

💎Dance
💎Embodied movement
💎Primal movement
💎Feminine embodiment
💎Sound release
💎Tantric yoga and healing
💎Shamanic breathwork
💎Visualisations
💎Dream rituals
💎Sex magick
💎Chakra clearing
💎Intuitive journaling
💎Quantum energy
💎Shadow work
💎Mirror work
💎Archetypes
💎Intuitive guidance

The Goddess Body Program is hosted by Maree, a Goddess, Actress and Tantric Embodiment Coach.
Star Sign – Taurus ruled by Planet Venus, governing Love, Sex and Beauty
Special Powers – Alchemist and Sensual Magick
Attributes – Empathic, Intuitive and Perceptive

FAQS


To ensure you don't miss out on any emails, check your junk or spam folder and add dance4fitness@optusnet.com.au and lovegoddess@optusnet.com.au to your mailing list
If you need clarification about any aspects of Goddess Body Program contact us via website or email

Who can do this program?
Women everywhere.

Do I have to participate in all zoom calls?
It is highly recommended as you will receive the full benefits of this deep transformation

I have purchased the program but now can't attend, can I get my money refunded?
Once payment is received we are not able to give a refund as per Goddess Body Program policies.

I have never done anything like this before and am a little nervous?
Understandable but do not fret! The Program is taught by a qualified Embodiment and Tantric Yoga Facilitator. (See below)

How do I use Zoom and what is it?
Zoom is an easy to use cloud platform for online video and audio conferencing. You will be given all the Zoom details when you purchase the Program.

I have an injury/medical condition, can I still attend? Please consult your medical practitioner before committing to the Goddess Body Program as there is physical dance movement and deep transformational, and deep somatic work.

The Facilitator – Maree Shefford
Embodiment Coach and Tantric Yoga Teacher
Star Sign – Taurus
Special Powers – Alchemist, Sensual Magick, Transformational Healing
Attributes – Light worker, empathic, intuitive and perceptive
_____________________________________________________________________

Ready to awaken to your Feminine Power?


Enrolment Now Open

5 Day Goddess Body Program – July 6th till 10th

Full price $250.00. Early Bird $150.00 by 30th June

Goddess Body Program
Copyright 2020