TO BOOK – head to the Laneway Learning website
CLICK HERE – Vintage Burlesque
VINTAGE BURLESQUE CLASS – Laneway Learning
What's it all about?
Madame M's Vintage Burlesque is an introduction for those who have never tried burlesque and have always been curious. Even if you are a dance virgin and the most uncoordinated person on this planet, you will find the moves fun and easy to pick up! It is great opportunity for women of all ages to feel fabulous and feminine.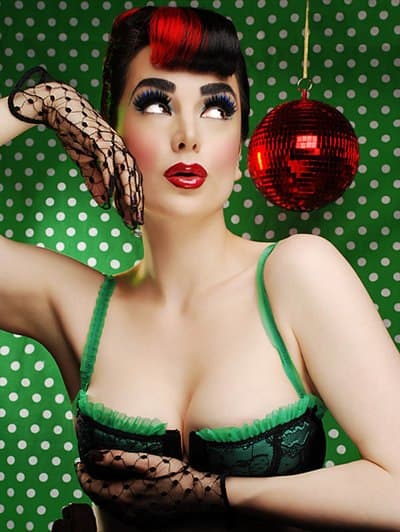 What will we cover?
In the class you will be shown original 50's burlesque moves: the bump 'n' grind, shimmies, feather boa techniques, undulations, glove and stocking peels, teases, reveals and a whole lot more.
You will learn an easy 1950's vintage burlesque dance routine, where you will use feather boas, satin gloves, garters and stockings, incorporating a sexy chair dance.
Burlesque is also a great fitness workout. You will achieve better balance and posture, strengthen the back and the muscles of the pelvic floor, tone thighs, glutes, hips, abs, work out the core muscles and improve your flexibility. After the class you will feel empowered, confident and be ready to conquer the world!


VINTAGE BURLESQUE – 4 week course
Monday May 20th – 7.35 pm till 8.45 pm $120.00
Learn how to SEDUCE, BEGUILE and TEASE with original Vintage Burlesque moves. Unleash your Sexy Siren and Femme Fatale archetypes and explore your naughty, flirty side, by awakening the powerful feminine Goddesses Aphrodite and Isis!

You will be shown all the original classic Burlesque moves and explore a multitude of different character's persona's! You will get to play with a variety of props including: masks, boa's, gloves, garters and feathers, which draws out your unique signature style!

Over the 4 weeks, you will learn the fundamentals of Vintage Burlesque choreography, seduction techniques, costume styling, the history of Burlesque and an easy to pick up original 1950's Vintage Burlesque routine!

You will learn the following:
Bumps n Grinds
Shimmies
Burlesque Strut
Undulations
Isolations
Pin Up Poses
Feather Boa Technique
Garter Tease
Glove Peels
Chair Dance

Teacher:
Maree (Madame M) specialises in teaching Dance, Acting classes and Embodiment. She has taught hundreds of women how to tap into their feminine energy and sacred sensuality.

Over the last 7 years she has taught hundreds of women about sensuality, confidence, and empowerment. For many years she has researched and studied sacred sexuality, and is highly adept at teaching women of all ages how to tap into their feminine energy.

If you would like more info about Madame M's Burlesque you can visit her facebook page or her website: www.dance4fitness.com.au
VINTAGE BURLESQUE 4 Week Course

DATES/TIME: Monday May 20th 2019
7.35 till 8.45 pm

LOCATION: 175 Chapel Street, St Kilda

COST: $120.00
Early Bird Price $105.00 only until May 8th!

(Limited places. Payment required in advance. No refunds after payment received unless course is cancelled).

DRESS SUGGESTIONS: Lingerie styled clothing, leggings and bring pair of heels that are comfortable.
_____________________________________________________________________________
Maree also teaches at http://www.lanewaylearning.com.au