💎Sensual Burlesque Dance is a great way to activate your sensual pathways and get fit at the same time!

💎The Sensual Seductress knows what she wants…
💎She is in touch with her desires …
💎She is tapped into her femininity …
💎She is in a state of relaxed and sensual flow …
💎She magnetises what she wants effortlessly and with ease …
💎She feels powerful and confident

Burlesque Dance with Madame M – Group Course 4 Week Course


💎Bumps n Grinds
💎Shimmies
💎Burlesque Strut
💎Poses and Peels
💎Feather Boa Technique
💎Garter Tease
💎Glove Peels
💎Chair Dance
💎Seduction Techniques
💎Seductress Archetype
Course: Burlesque Dance with Madame M
Structure: 4 weekly sessions – 1 hr
Date/time: commencing 29/6/22 – Wednesday's 7 pm to 8 pm BOOKINGS CLOSED – please email for more info
Location: Elwood (full address will be given upon booking)
Cost $120.00
Note: Course must be paid in full by Friday 24/6/22
T's & C's
Payment required prior to commencement
No refunds once payment received
If unwell please let the instructor know, and do not turn up to class for safety of all
Missed classes cannot be made up due to the structure of the course
Learn Classic Burlesque moves to seduce, beguile and tease! Explore a multitude of different character's persona's and connect to your Inner Goddess.

Burlesque is not only a powerful sensual workout but also an opportunity to allow you to re-connect to your body, mind and soul, restore body balance and awaken inner body wisdom.

You will learn the fundamentals of burlesque choreography, seduction techniques,costume styling and choreographed dance routines.

And you will get to play with a variety of props including: masks, boa's, gloves, garters and feathers, drawing out your unique signature style!


IN PERSON Private Bespoke Burlesque
1 x 60 mins
$80.00
(Online $70.00)
💎Bumps n Grinds
💎Shimmies
💎Burlesque Strut
💎Pin Up Poses
💎Feather Boa Technique
💎Garter Tease
💎Glove Peels

If you like to find out more about our classes and programs scroll down to our enquiry form
Later in 2022 …

Cabaret Burlesque Dance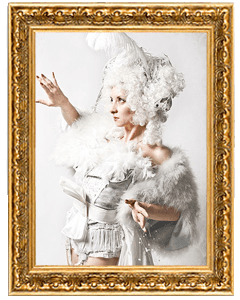 Cabaret Burlesque incorporates powerful Jazz Dance, Burlesque Chair Dance, feminine/masculine polarities and working with the Diva Archetype.

Cabaret Burlesque can be seen in the movies 'Cabaret' and 'Burlesque'.
Madame M will take you through her avant garde and eclectic Burlesque moves.You will learn powerful hip, chest and working with props – bowler hat and cane. You can substitute these with normal hat and umbrella!A knock em dead chair dance which really works out the whole body, especially the arms and abs!

You will get to practice Jazz based burlesque moves and learn the secrets of how to dance Cabaret Style.